4 Amazing Cruise Line Cookie Recipes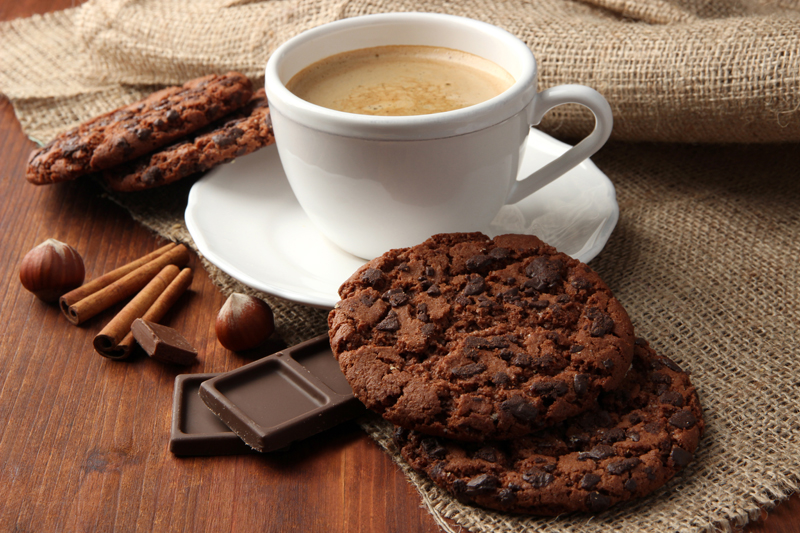 It's always good to have a lots of fantastic cookie recipes. Cookies are perfect for parties, holidays and local bake sales, too. Some of the best cookies are those created by top cruise line chefs. These culinary geniuses know how to create delicious treats to delight any palate.

If you're seeking something sweet to delight your family and friends, check out these four great cruise line cookie recipes:

Coconut Ranger Cookies – Royal Caribbean Cruise Line

Ingredients:
8 oz. All Purpose flour
3/4 teaspoon baking soda
4 oz. unsalted butter, softened
4 oz. Praline Paste
3 oz. brown sugar
3 oz. granulated sugar
6 oz. sweetened shredded flaked coconut
2 oz. coconut puree
1 egg
1 egg yolk
1 teaspoon vanilla extract

Directions:
1. Preheat oven to 340 F (170 C)
2. In a bowl, sift together the flour and baking soda.
3. In another bowl, beat butter, praline paste, and vanilla extract until smooth and creamy, scraping bowl occasionally.
4. Add sugars and beat more, then beat in egg and yolk until well blended.
5. Beat in flour mixture until just blended.
6. Stir in the coconut, dough will be very stiff.
7. Using an ice cream scoop or 1/4 cup measuring cup, scoop cookie dough onto a baking sheet.
8. Moisten the bottom of a drinking glass and flatten each mound to about 3/4″ thickness.
9. Refrigerate for at least 20 minutes.
10. Bake until slightly puffed but barely colored, 9-12 minutes.
11. Let cookies cool for 10 minutes

Grandma's Vanillekipferl Cookies - Master Chef Rudi Sodamin, Holland America Line

Ingredients:
Cookie:
5 oz butter
7.4 oz flour
2.8 oz ground hazelnuts or almonds
2.8 oz powdered sugar
1 egg
Topping:
2 oz powdered sugar
3 tablespoons vanilla sugar*
*To make your own vanilla sugar: Place 1 1/2 to 2 cups of sugar in pint jar. Put a clean vanilla bean in the jar, cover and shake well. Let stand for a few days, shaking the jar occasionally, before using the sugar. As you use the sugar, replace with fresh sugar.

Directions:
1. Sieve the flour into a heap on a pastry board or into a large bowl.
2. Cut the cold butter into small pieces and mix with the flour.
3. Add powdered sugar, ground almonds or hazelnuts and the egg.
4. Rinse hands with cold water and quickly knead mixture into a crisp dough.
5. Chill dough in the refrigerator for 30 minutes.
6. Form thumb-thick size rolls from the dough.
7. Cut roll into 1 cm wide pieces, roll and form crescents.
8. Bake crescents at 350° Fahrenheit for 10-15 minutes, or until very light-gold in color.
9. Roll the crescents in a mixture of powdered sugar and vanilla sugar while still hot.

Chocolate Chip Cookies – Crystal Cruises

Ingredients:
1 ⅓ cup Unsalted Butter (2 sticks plus 6 tablespoons)
1 cup Sugar
1 cup Brown Sugar
2 large Eggs
1 tsp Salt
2 tsp Vanilla Extract
1 tsp Baking Soda
3 cups All-Purpose Flour
1 packet Bittersweet Chocolate (10 ounces)
Garnish: 1 package Mini Cadbury Eggs

Directions:
1. Working with a stand mixer fitted with the paddle attachment, or in a large bowl with a hand mixer, beat the butter and both sugars together on medium speed until soft and creamy. Add eggs one at a time until incorporated. Add in the salt and vanilla.
2. While butter and sugar are creaming, in a separate bowl, whisk baking soda into flour.
3. Turn off the mixer, add all the dry ingredients and pulse a few times to start the blending. Then, turn the mixer to low and beat until the dough comes together. Toss in the chocolate chips and slowly mix to incorporate.
4. Using a cookie scoop as a guide, portion out balls of dough on to a tray. Freeze the tray of dough for at least one to two hours. I usually make these the night before.
5. Place a rack in center of oven and preheat oven to 350 F with an empty cookie sheet pan in oven. The hot tray helps with the browning and stops cookie from spreading.
6. Once oven comes up to temperature, carefully remove hot baking tray and place a piece of parchment or a silicone mat on it. Remove the tray of cookies in your freezer and transfer the cookies to the hot tray, spacing them 1 1/2 inches apart.
7. Bake at 350 F for 10 minutes rotating mid-baking
8. Remove cookies. Add three Cadbury Mini Eggs to each cookie, slightly pressing them into dough.

Linzer Short Cookies - Master Chef Rudi Sodamin, Holland America Line

Ingredients:
1 cup of almonds, toasted and grounded
2 cups of flour, sieved
1/2 teaspoon of cinnamon
1/4 teaspoon of salt
2 sticks of butter, softened
2/3 cup of sugar
1 teaspoon of vanilla extract
2 eggs
1 lemon, fine zest
2 cups of raspberry preserve

Directions:
1. In the bowl using the paddle, beat the butter and sugar until light and fluffy approximately 3 minutes. Beat in the vanilla extract, egg yolks and lemon zest. Beat in the ground nuts. Add the flour cinnamon and salt just until incorporated.
2. Divide the dough in half and shape into two rectangles about 1/2 inch thick. Wrap the two rectangles of dough in plastic wrap and refrigerate at least one hour.
3. Remove one rectangle of dough from the refrigerator. On a lightly floured surface roll out the dough until it's about 1/4 inch thick. Using a 2- to 3-inch round cookie cutter, cut out the dough.
4. Place the cookies about 1 inch apart on a lined baking sheet. Use a smaller cookie cutter, 3/4 to 1 inch, to cut out the centers of half of the cookies on the baking sheet. You will be sandwiching two cookies together and there will be a small 'window or cut out' on the top cookie so you can see the jam underneath.
5. Reroll any scraps and cut out the cookies. Remove the other half of dough from the refrigerator and roll and cut out the rest of the cookies.
6. Bake the cookies at 350 F for 12-14 minutes or until they are very lightly browned. Remove from oven and place on a wire rack to cool.
7. While the cookies are cooling, place the raspberry preserve in a small saucepan and heat gently until it has thickened slightly and cool down.
8. To assemble cookies: Place the cookies with the cut-outs on a wire rack and lightly dust the tops with the confection sugar.
9. On the surface of the full cookie spread with about a 1/4-1/2 teaspoon of jam. Place the cut-out cookie on top and gently sandwich them together. Using a small spoon, fill the cut-out with a little more jam.






Related Articles
Editor's Picks Articles
Top Ten Articles
Previous Features
Site Map





Content copyright © 2022 by Nancy Schretter. All rights reserved.
This content was written by Nancy Schretter. If you wish to use this content in any manner, you need written permission. Contact Nancy Schretter for details.