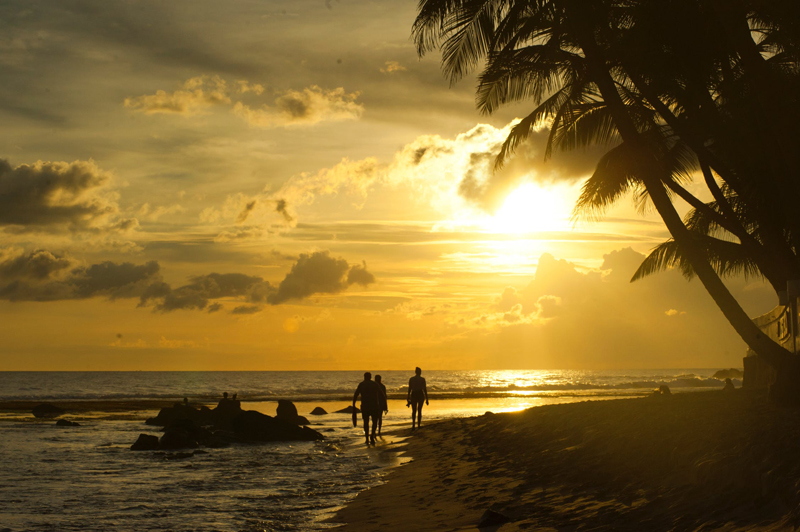 If you're heading to the islands and want to get closer to the local culinary culture, a handful of food festivals and events offer the chance to sample authentic Caribbean cuisine.

Puerto Rico's Pork Highway
High up in the Carite forest, about 30 miles from San Juan, the town of Guavate is the Shangri La of roasted pork. TV chefs Andrew Zimmern and Anthony Bourdain have both made the pilgrimage to the town off highway PR 184 to marvel at the spectacle of whole roasted pig (called 'Lechon' locally) working up a succulent glaze over fire pits, but each weekend local Puerto Ricans arrange themselves bumper to bumper in a quest to chow down among the rows of brightly colored kiosks and stalls, called 'Lechoneras', while loud salsa music blares from all sides.

The Pork Highway is a weekend street party. Each kiosk loudly boasts of its own prowess, heaping steaming chunks of aromatic hog onto plates already piled high with plantain, rice and beans and assorted provisions. The cost? Barely ten dollars. The sound of machetes swinging into marinated, slow cooked ribs or chicharron chimes with the salsa. Pork aficionados can graduate from ribs and chops to more eclectic pork dishes such as stewed stomach or longaniza (sausage).

Follow the whiff of smoke at weekends to join one of the island's biggest parties up amid the cooler temperatures of the hills, or come during the week to focus on pork without the razzmatazz.

Turks and Caicos Conch
Conch once flourished in the shallow waters around the Bahamas and the Turks and Caicos, taken for granted by islanders and visitors and forming the basis of local staples such as conch chowder, cracked conch and conch salad. The Queen Conch features on the Turks and Caicos flag, and discarded pink shells line pathways or top off garden walls.

Visitors to Providenciales in the Turks and Caicos during late November/early December can enjoy the Conch Festival, ten years old in 2013. The event pits local restaurateurs in a 'conch-e-tition' to prepare the best salad, chowder and fritters, while entertainment includes a conch blowing contest, dominos, and local steel pan and ripsaw music.

Events such as the festival celebrate conch, which is delicious after all, and focus attention on its sustainability. The US consumes 80 percent of the world's Queen Conch supply, while suspending its harvest in Federal waters. The Caicos Conch Farm is the world's first and only commercial conch farm. Visitors can enjoy a 30-minute tour of the Queen Conch-cultivating farm.

Trelawny Yam Festival
The quiet parish of Trelawny, just up the coast from Montego Bay, is perhaps most famous for nurturing record breaking sprinters such as Usain Bolt. One reason for their success might be the abundance of yam, the starchy tuber packed with slow-release carbs.

Trelawny produces over half of Jamaica's yam harvest. Since 1997, the parish has celebrated the Yam Festival on Easter Monday, currently at Albert Town. The event features yam tasting, rum drinking, a yam digging competition, tug of war, and a Yam King and Queen contest.

The yam originally came to Jamaica from West Africa, where the famous Igbo festival in Nigeria and the Ghana Yam Festival already draw in the multitudes. Jamaica cultivates 18 different types of yam, from sweet and soft to dry and waxy. Those that are not wolfed down on island are exported to impatient ex-pat communities across the world.

Portland Jerk Festival
Jamaica's signature culinary flourish is Jerk, which refers to the process of pricking holes in pork or chicken and infusing the meat with a dry or wet marinade including allspice, chili, thyme and the fiery Scotch Bonnet pepper. Good Jerk is cooked in a pit fire over coals and green wood, particularly Pimento or laurel. Originally, the process of jerking is thought to have come from escaped Maroon slaves hiding up in the hills, who preserved bush pig in spices and cooked it covered in a pit to avoid giving away their location with smoke.

Port Antonio on the island's northeast coast dubs itself the home of jerk. Each July, Folly Estate hosts the Portland Jerk Festival, with live music, cook off and revelry. Be warned! Authentic jerk should be fiery hot.




Related Articles
Editor's Picks Articles
Top Ten Articles
Previous Features
Site Map





Content copyright © 2022 by Nick Marshall. All rights reserved.
This content was written by Nick Marshall. If you wish to use this content in any manner, you need written permission. Contact Nick Marshall for details.