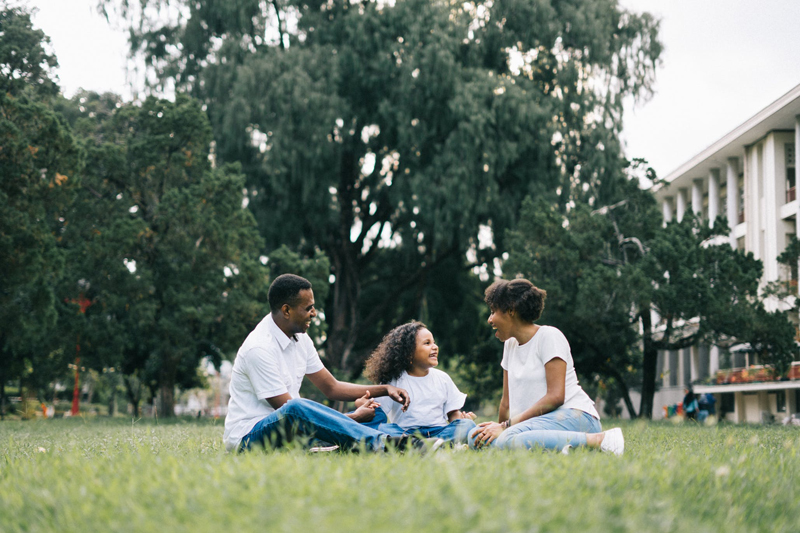 "Holy Moses! Who Put Jesus Back on a Stick?!"

It has always been a family tradition for my family to gather each Sunday and go to the house of worship. On Palm and Easter Sundays, our crowd grew a little larger with those family members that decided that this was the holiday to get themselves straight with God. (And to avoid the tongue lashing from my great-grandmother about their wayward souls going to hell, and how all she wanted was to see all her family together since she did not know how many more years the good Lord would grant her!) They fell for it every year until she passed at the lovely old age of 93 —some thirty-five years later!

The family would crowd into their cars and head over the Verrazano bridge, from Staten Island to Manhattan, to attend church services with my Nana. She was the head of her church's Usher-board at a Baptist church in Harlem. As our family grew, she would later decide it was easier for her to travel to the Island and come to our local church.

I don't know if you ever been in a Baptist church before. As a child, I found it intimidating. I grew up in a non-denominational church. So some of the traditions of the Baptist church were foreign to me. And the services seem to last forever! I was quite the precocious child. I wanted to know the why, how, because, and when of everything. And I had trouble sitting still unless something garnered my attention.

During this particular excursion, I was excited about visiting my Nana's church. I liked to see her all dressed in her white uniform and marching down the aisle. I was also excited because my Gram promised me I could help her in the kitchen once we returned home for Sunday Supper if I sat quietly and didn't ask too many questions. I could do that! I loved nothing more than helping my Grams in the kitchen. She would let me use her mixer and to knead dough for her homemade yeast rolls.

I tried. I really tried not to ask too many questions. I even sat on my hands to keep from moving so much. I wanted to be on my best behavior. And that's when I looked up when the Deacon moved to the side after the announcements. That's when I saw Him. Jesus on the stick. I knew it was Jesus, because of the crown of thorns on His head that I learned about in Sunday School, and the nails in his hands and feet. I couldn't keep it in. It came out in a shocked gasp: "Holy Moses! Who put Jesus back on a stick?!"

Yes. I said it. Loud enough for the Ministers, Bishops, and congregants to hear. My mother yanked my hand. My father chuckled. My Grams closed her eyes and shook her head. My uncles and aunties laughed. And a few people gasped. I really wanted to know. I didn't think I asked anything wrong. So I continued: "In Sunday School, they said Jesus rose from the grave. That, He was not dead anymore, but went to heaven with God, where He watches and prays for us. So I don't understand; why is Jesus back on a stick? How did He get there?" My five-year-old mind needed answers.

Someone cleared their throat. Finally, an Elder looked at me, with a smile on his face, shaking his head. I presume at my innocence or my rude interruption of the services and church announcements. He proceeded to explain to me that Jesus wasn't on a stick, but a "cross". And that what I was seeing was just a symbol of what Jesus did for us; that He did indeed die on a cross for us, and is in not only heaven praying for us but living in our hearts when we invite Him in.

I thought about it for awhile. I looked at the stick — the cross — then at the Elder and then my family. I sat back, crossed my legs, and folded my arms. I looked up again at the cross. I didn't like it. I understood what he told me. But I didn't like it one bit. I didn't think we should keep Jesus on that stick if He was no longer there. And I said as much. "Okay. But I still don't think Jesus should be on that stick! It looks very uncomfortable!"

A few exasperated sighs escaped, along with some head shakes and headaches, and some smirks and chuckles. The services continued. I behaved myself. I didn't say anything or ask any more questions. But the whole time, I was wondering how I could rescue Jesus off of that stick!

After services, we all went to my Nana's house in Harlem for Easter dinner. My Grams let me help her in the kitchen despite my little outburst. Everyone gathered around the beautiful Brownstone, and chatted, laughed, ate the appetizers set out while their senses were assaulted by the heavenly aromas coming from the kitchen. When everything was ready, we gathered around the table, held hands, and listened to my Nana give a thirty-minute grace!!! Then we ate, drank, and laughed some more. Filling our heart and bellies with all things a family should be.

From My Family to Yours; Happy Easter!
©2016. Ruthe McDonald. All Rights Reserved.
You Should Also Read:
Family Traditions Highlighted This Easter Season
Incorporating Traditions This Easter Season
This Easter


Related Articles
Editor's Picks Articles
Top Ten Articles
Previous Features
Site Map





Content copyright © 2022 by Ruthe McDonald. All rights reserved.
This content was written by Ruthe McDonald. If you wish to use this content in any manner, you need written permission. Contact Ruthe McDonald for details.