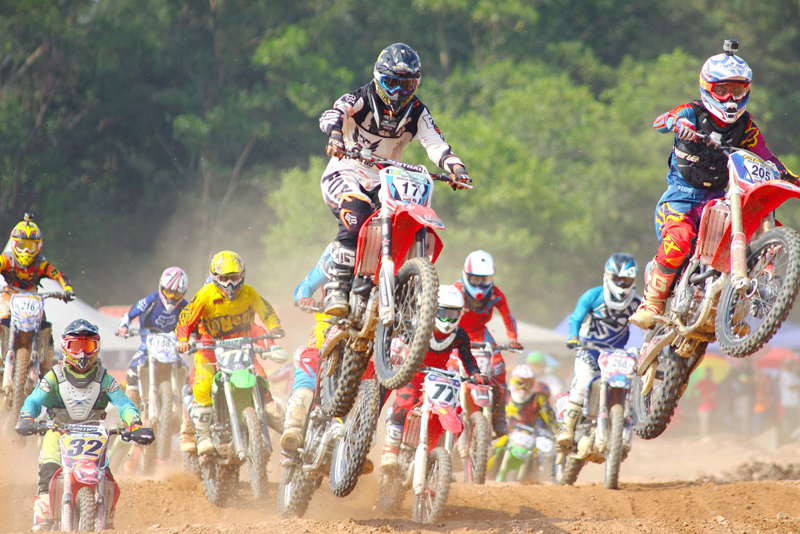 Without drivers there would be no racing, so here you can find articles on those that make it and those that don´t do quite so well.
Alonso Key to Driver's Market


Last year many drivers had to wait for Fernando Alonso to make his move before they could sign their contracts for 2008. It looks like this year is going to be no different, so here we take a look at what his choices are.
Ambitions and Driving Styles


What does it take to win a championship? Do you have to be focused on getting the best out of every single moment on track, or do you need to play a longer game? Here I take a look at the top driver styles and their ambitions.
Anthony Davidson Tries Commentating


Since the demise of Super Aguri, Takuma Sato and Anthony Davidson have been searching for a way back into the sport. Here we take a look at one of their progress.
Barrichello Breaks Grand Prix Starts Record


With Michael Schumacher gone, you´d be forgiven for thinking the record breaking was over. However, ex-team mate Rubens Barrichello has taken the most Grand Prix starts, and wants even more.
Biography- Felipe Massa


Felipe Massa's Formula 1 career has had its starts and stops over the years.
BMW Retain Drivers for 2008


There´s been some speculation about the future of the increasingly successful Nick Heidfeld, but it looks like 2008, at least, is decided.
BMW Retain Drivers for 2009


With Williams and BMW announcing an unchanged lineup for 2009, Fernando Alonso´s choices are diminshing. Here we look at the pairing for BMW, and who Alonso has left.
Coulthard's Final Race Livery


David Coulthard is running his final race this weekend in Brazil and is going out in style. He´s got a new paintjob for the Red Bull car, and it´s supporting a charity. Here we take a closer look at the initiative.
David Coulthard Announces Retirement


After 14 years in the sport, David Coulthard has announced his retirement from F1. It´s a sad time but he feels it is the right decision to leave whilst he is still competitive.
Does Driving In Formula 1 Mean Giving Up Your Private Life?


There have been a few stories recently about drivers and their private lives, so I investigate how much you have to give up to drive in the sport you love.
Driver Profile - Fernando Alonso


Fernando Alonso is a double world champion but struggled in 2007 to make it a third. His battles with his team and more specifically his team mate made the headlines throughout the year, but what made him the man he is today?
Driver Profile - Giancarlo Fisichella


Renault driver and experienced F1 racer Giancarlo Fisichella has participated in lots of racers, but only has 3 wins to his name. Find out how he got to where he is today in a brief recap of his career.
Driver Profile - Heikki Kovalainen


A look at the McLaren number two driver, including where he started, how he made his way to McLaren, and his prospects for the future.
Driver Profile - Kimi Raikkonen


Profile of the newest Ferrari driver on the block, and some would argue the fastest of the two, Kimi Raikkonen.
Driver Profile - Lewis Hamilton


No one can argue that Lewis Hamilton has shown some real talent in his first full season of Formula 1. But where did he come from?
Driver Profile - Mark Webber


Mark Webber has a tough year ahead of him, recovering from a broken leg, and with his raciest teammate yet. However, he´s overcome plenty of difficulties in the past to get where he is today, so don´t count him out.
Driver Profile - Nick Heidfeld


Heidfeld is one of the paddock´s quieter characters, and has yet to score his first win. He´s been in the sport for a while, though, so here we look at his progress so far.
Driver Profile - Nico Rosberg


The next driver we´re taking a look at in this profile series, is the young and very talented Nico Rosberg. His loyalty to Williams will be tested this year, let´s have a look at what they´re trying to keep hold of.
Fernando Alonso Chooses Renault For 2008


There´s been rumours and speculations about Alonso´s future team for a few months now, but it all comes to an end with the announcement that he will rejoin Renault.
Force India Keep Drivers for 2009


The lineup for 2009 at the back of the grid looks as though it will remain unchanged, as Vijay Mallya confirms Sutil and Fisichella. Here we look at what they have achieved this season, and their goals for 2009.
Hamilton Given MBE Award


Lewis Hamilton has been honoured by the Queen of England in her New Year´s Honours list. Here we look at what that means, and which other British drivers have been rewarded.
Hamilton Joins the GPDA


Last year, there was a big outcry when Hamilton decided not to join the GPDA, but now he has signed up to the association, feeling that he has enough experience now.
Mark Webber Breaks Leg in Tasmania Challenge


Mark Webber takes part in his own Tasmania Challenge every year, but this weekend it ended in an unfortunate accident. Read on to find out what happened and how this affects Webber´s season.
Massa Becomes a Championship Contender


Most of the headlines regarding the F1 driver championship revolve around Lewis Hamilton and Kimi Raikkonen, but there are a few more names to add to the mix - Felipe Massa included. Here I take a look at how his season is progressing.
Michael Schumacher - Legend Or Laughing Stock?


Even if you're not an F1 fan, you've probably heard of Michael Schumacher. The question is whether he is going to be remembered for his wins or for his wayward antics.
Raikkonen Re-Signs for 2010


One more driver seat is filled up to 2010, with the announcement that Kimi Raikkonen will stay at Ferrari. Here we look at what that means for the driver´s market, and for Raikkonen´s future.
Ralf Schumacher Confirms Toyota Departure


Ralf has finally revealed his future - well, part of it. He´ll be leaving Toyota at the end of the year, and whilst he´s not confirming any actual plans, he seems to be confident about the next step.
Sebastian Vettel's Incredible Pace


Sebastian Vettel has enjoyed a meteoric rise in Formula 1 racing. Let's take a closer look at his incredible record.
The 2007 Drivers


Find out who's going to be rocking and riding in the 2007 season.
The 2008 Drivers


It´s that time of year again, the official FIA Entry List has been released, all the drivers have been announced, so it´s time to have a look at what to expect in 2008.
Title Rivals Deal with the Pressure


It´s not long now until the final race of the season, the 2008 championship showdown. Hamilton and Massa both have it all to play for, and here we look at how they are approaching the last race of this year.
Two Reserve Drivers Announced


Although the third driver role has been severely restricted for 2009, it´s still important to have a backup in case of emergency. Two drivers have been confirmed at Red Bull and Brawn GP.
USF1 Interested in Danica Patrick


The potential new team from the US wants to sign up American drivers, and Danica Patrick is top of their list. Here we look at why she is both popular and controversial.
Webber Gets Back in the Car


The long anticipated return of Mark Webber happened in Jerez this week. Here we look at how his return went and whether he´s strong enough to race in Australia.
Webber Worried About the Future


Red Bull driver Mark Webber has raised a couple of concerns about the 2009 season. Here we take a look at what´s worrying the Australian, and why.
Webber's Recovery Ahead of Schedule


Since breaking his leg at the tail end of 2008, Webber has been working hard to get his fitness back, and now believes he is ahead of schedule. Here we look at the latest updates to his training programme.
What Comes After Formula 1


When a driver decides to retire from Formula 1 - what are his options?
Wurz Drives Singapore Medical Car


When the regular medical driver fell ill, Honda test driver Alex Wurz stepped up to take the wheel. Here we look at why he was chosen, and how the medical facilities stack up.
Editor's Picks Articles
Top Ten Articles
Previous Features
Site Map
Content copyright © 2018 by . All rights reserved.
This content was written by . If you wish to use this content in any manner, you need written permission.
Contact BellaOnline Administration for details.